Suggestions of 6 best dishes to eat around West Lake
Hanoi's street food scene can be overwhelming with its variation in smells and tastes but it's well worth exploring since it's one of the freshest, healthiest and most flavorful cuisines in the world. Around the West Lake, there are many delicious dishes, let's find out these dishes and places to enjoy it so as to make you day trip to West Lake more memorable and fullfiling!
1. Shrimp Cake (Banh tom Ho Tay)
Coming to West Lake, you must enjoy shrimp cakes here at least once in a life time. Around the road along the lake, there are many shrimp cake restaurants, but the most famous and delicious is probably Tay Ho Shrimp Cake Restaurant. The West Lake shrimp cake is a type of batter-dipped shrimp patties that were originally made and served by a state-owned restaurant next to West Lake in the 1970's. Originally, freshwater shrimp that were caught from West Lake were used to make the dish, hence geographically inspired moniker. The West Lake shrimp cake is served with sweet and sour fish sauce, green papaya and carrot slices.


Address: No 1, Thanh Nien street, Truc Bach, Ba Dinh district, Hanoi.
Price: 80.000 VND – 130.000 VND
2. Banh cuon (Traditional Rolled Cake)
Banh cuon is a popular Vietnamese street food item consisting of steamed rice rolls stuffed with pork and mushrooms. The dish is usually served with a fried shallot dip, sweet fish sauce, a variety of fresh herbs, and lime-based sauce on the side.
It takes a special kind of skills to prepare these steamed rolls which should always be extremely thin and translucent. By itself, the pale white rice batter is silky, smooth and soft but otherwise rather bland. Flavor and texture come from the filling of seasoned ground pork, mushrooms, and shallots. The rice noodle roll is served with a separate bowl of clear amber dipping sauce, which is essentially fish sauce.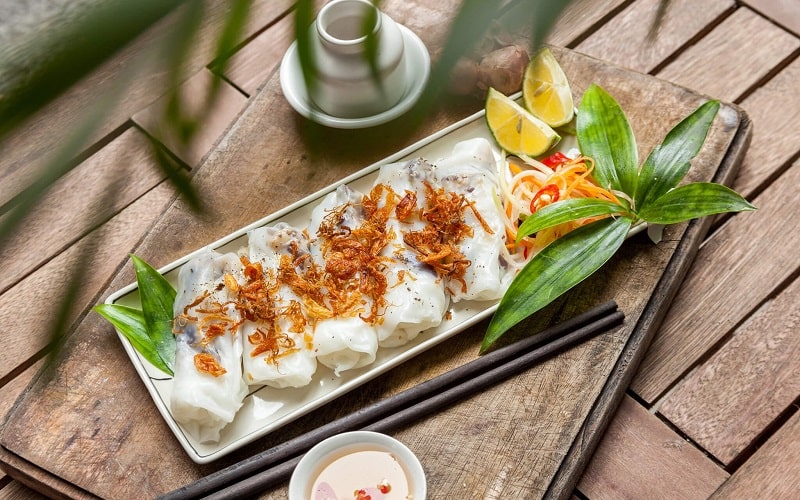 Address: No 194. Thuy Khue street, Tay Ho district, Hanoi
Price: 40.000 VND – 50.000 VND
3. Pho cuon (rolled rice noodle soup)
Eating Pho Cuon is also among the top things to do in West Lake. Pho Cuon looks like spring rolls from the outside but is totally different inside. It's made from rice paper as you will see with its white colour. Inside you will find herbs, greens and sliced beef. It is a fresh dish and when you eat it, you should dip the rolls into the broth (made of fish sauce, sugar, vinegar and chilli/pepper). Local and tourists love this dish a lot, especially during hot weather as it's a fresh dish.
Address: No 25, Ngu
Xa street, Ba Dinh district, Hanoi
Price: 60.000 VND – 100.000 VND
4. Bun dau mam tom (noodle with shrimp sauce)
One of the most popular dishes of Hanoi in general and West Lake in particular is the noodle with shrimp sauce. The dish simply consists of crispy fried tofu with white noodle and some herbs, but it has the magic power to conquer even the most demanding customers. In addition to fried tofu, the dish also goes with spring rolls, boiled meat, apricot, boiled or fried pig internal organs to meet the various demand of its diners.
Address: No 235, Thuy Khue street, Tay Ho district, Hanoi
Price: 25.000 VND – 70.000 VND
5. Banh bot loc (clear flour cake)
Located on the bustling Thuy Khue street, there is a very simple Banh bot loc restaurant, hidden among shimmering advertising signs; however, is one of the famous one in the whole city. Unlike traditional clear flour cake, Banh bot loc in West Lake is made of tapioca starch, shrimp, and pork belly. It is often used with sweet and sour fish sauce and raw vegetables. This kind of food is very fresh and light.
Address: No. 198 Thuy Khue Street, Tay Ho district, Hanoi
Price: 15.000 VND/bowl
6. Snails
When it comes to West Lake, it is impossible to ignore dishes made from snails. Walking around a West Lake you will see countless different snail eateries, but you will definitely have to visit Ba Gia snail shop once. This is the oldest snail shop in West Lake and is always packed with customers. At Ba Gia snail shop, there are many different snail dishes such as boiled snails, fried snails with tamarind, mannequin snails, steamed clams, steamed snails stuffed with lemon leaves and familiar snacks: fried sweet potatoes, fried spring rolls, etc. Especially, snail sauce here is prepared with typical spices according to traditional recipe to ensure a very rich and different flavor.
Address: No 173, Trich Sai street, Tay Ho district, Hanoi
Price: 30.000 – 70.000
Above is some typial dishes of West Lake that you need to know. Hope our aforementioned information help you your trip more complete.
Written by: Hieu La